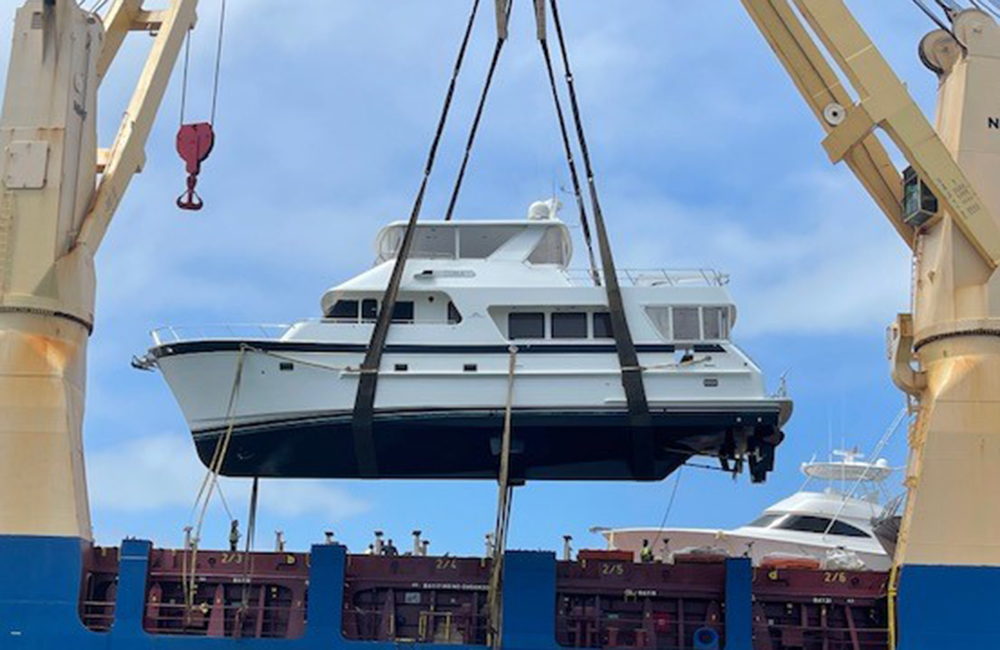 I cruised AVALON down from Seattle to Ensenada, Mexico, and hit quite a bit of nautical weather. Once you are out in the Pacific, they say it is safer for you to stay offshore, then head in. We ended up going through 5 small craft advisories, 22-25 ft seas, a 60-knot gale and I remember at one point looking out the back and the wave was well above the davit on the top deck. After Puget Sound we only pulled in once and that was Newport, Oregon where the coast guard shut the inlet for 4 days almost right after we hit the dock. Coming out we saw 14-16 ft with a 6-second period with the US CG following us out in two rescue boats. Coming around Point Conception, we had a 16 ft aft broadside wave with a short period.
AVALON handled great and I couldn't be more pleased with her. Not only was she great offshore, I lived on her for 2 months in Mexico waiting for the ship and was extremely impressed by her comfort.
A little background about me and my wife Nicole:
I've owned boats all my life and was a Naval Officer for 5 years after college. My wife and I decided in 2017 to buy a sailboat and sail around the world. In 2018 we ordered a new 50' Fountaine Pajot catamaran that was delivered to us in early 2020. We then sailed approximately 8,000 miles on her and realized we were motor sailing more than sailing. Prior to the catamaran we had looked at long range trawlers but thought a sailboat would be economical and fit us better at the time. With us motor sailing all the time, we were burning about $6-$8k in fuel a year and only going about 4000 miles/year. AVALON can actually do about 3500 miles for $15k / year (using $5/gal for both cases). So, the savings really wasn't worth it to us. In March of this year, we placed our catamaran for sale and then found and purchased ZUMA.
Our future plans are to continue cruising the Caribbean and eventually cross the Pacific Ocean into French Polynesia. After cruising her 1500 miles down the Pacific coast, I have no doubt we will be able to cross the Pacific with no issues.
- David and Nicole K., Owners of Outer Reef 650 Motoryacht "AVALON"
Back to All Testimonials